Another Shutterfly Post!
Remember when I did a blog post about Shutterfly running a promotion for 50 free Christmas cards? Well it worked perfectly and I received my code for the free cards the next day. We have actually already gotten our cards and I am planning to send them out very soon. Now they are running another great promotion to get $25.00 off your next purchase for sharing a project. I received my Christmas cards very quickly and I was so pleased with how they turned out. What a great opportunity to show off our family Christmas card for this year! Here is the one we chose: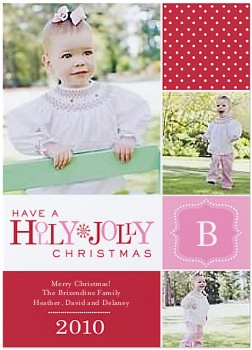 Peppermint Pink Christmas Card
I love it and they look even better in person! I love sending out Christmas cards every year and I also love to see other people's cards as well. You can really show your personal style with customized cards. Shutterfly has such a great selection this year and you don't want to miss out. Click on this link to see all the great Christmas card designs they offer:
share.shutterfly.com/action/welcome?sid=0EaNGbNsyaMnLg
. You can still get your cards from Shutterfly in time for the Christmas season!